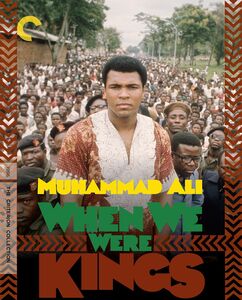 Preview
When We Were Kings (Criterion Collection)
(4K Mastering, Special Edition, Digital Theater System, AC-3)
Communiqué de

22/10/2019

Film et TV Genre

Special Interest-Documentary

Format de médias

Blu-ray

Veuillez prendre note. Sauf indication contraire, tous les BLU-RAY sont des zone A et tous les DVD région 1 encodez. Avant d'acheter, veuillez vous assurer que votre matériel peut lire ces régions. Pour plus d'informations sur le codage de la région, cliquez sur le lien ci-dessous :
Product Notes
In 1974, Leon Gast (Our Latin Thing) traveled to Africa to film Zaire 74, a music festival planned to accompany an unprecedented sports spectacle: the Rumble in the Jungle, in which late-career underdog Muhammad Ali would contend with the younger powerhouse George Foreman for the boxing heavyweight championship title a fight between two blacks in a black nation, organized by blacks, as a Kinshasa billboard put it. When the main event was delayed, extending Ali's stay in Africa, Gast wound up amassing a treasure trove of footage, capturing the wildly charismatic athlete training for one of the toughest bouts of his career while basking in his role as black America's proud ambassador to postcolonial Africa. Two decades in the making, When We Were Kings features interviews with Norman Mailer and George Plimpton that illustrate the sensational impact of the fight, rounding out an Academy Award-winning portrait of Ali that captures his charm, grace, and defiance.
Description
| | |
| --- | --- |
| Titre: | When We Were Kings (Criterion Collection) |
| Genre: | Special Interest-Documentary |
| Mettant en vedette: | Muhammad Ali, George Foreman, Don King, James Brown, B.B. King, Spike Lee, Norman Mailer, Thomas Hauser, Malick Bowens, Miriam Makeba |
| Directeur: | Leon Gast |
| Studio: | Criterion |
| Attributs: | 4K Mastering, Special Edition, Digital Theater System, AC-3 |
| Date de sortie: | 22/10/2019 |
| Format de médias: | Blu-ray |
| Note: | PG |
| UPC: | 715515235815 |
| Langue d'origine: | ENG |
| Sous-titres: | ENG |
| Moment de l'exécution: | 87 minutes |
| Year of Release: | 1996 |