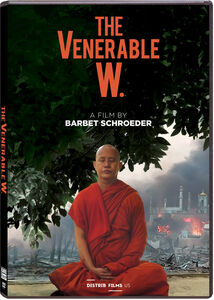 Preview
Venerable W
Communiqué de

19/05/2020

Film et TV Genre

Special Interest-Documentary

Format de médias

DVD

Veuillez prendre note. Sauf indication contraire, tous les BLU-RAY sont des zone A et tous les DVD région 1 encodez. Avant d'acheter, veuillez vous assurer que votre matériel peut lire ces régions. Pour plus d'informations sur le codage de la région, cliquez sur le lien ci-dessous :
Product Notes
Evil comes in many forms. In Myanmar, it manifests in the casual racism and Islamophobia of influential, charismatic Burmese Buddhist monk Ashin Wirathu. Through interviews with international journalists and community leaders who protest against Wirathu's views, activist footage of Rohingya persecutions, and through powerful storytelling, acclaimed director Barbet Schroeder (Reversal of Fortune, Koko: A Talking Gorilla, and Barfly) slowly, but inexorably, builds his case. Perhaps most damning of all are the interviews with the man himself; couching his rhetoric in nationalist fervor.
Description
| | |
| --- | --- |
| Titre: | Venerable W |
| Genre: | Special Interest-Documentary |
| Studio: | Distrib Films |
| Date de sortie: | 19/05/2020 |
| Format de médias: | DVD |
| Note: | NR |
| UPC: | 854565003163 |
| Langue d'origine: | ENG, FRE, SPA |
| Sous-titres: | ENG |
| Moment de l'exécution: | 100 minutes |
| Year of Release: | 2017 |