Afficher les résultats pour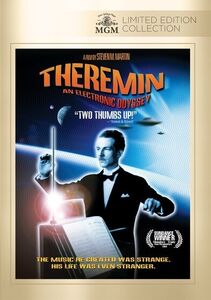 Preview
Theremin: An Electronic Odyssey
(Manufactured on Demand, Full Frame, NTSC Format)
Communiqué de

14/10/2014

Film et TV Genre

Special Interest-Documentary, Biography

Format de médias

DVD

Video Format

NTSC

Veuillez prendre note. Sauf indication contraire, tous les BLU-RAY sont des zone A et tous les DVD région 1 encodez. Avant d'acheter, veuillez vous assurer que votre matériel peut lire ces régions. Pour plus d'informations sur le codage de la région, cliquez sur le lien ci-dessous :
Product Notes
In the 1920s and 30s, Russian emigre Leonard Theremin the inventor of the world's first electronic musical instrument had it all. His self-named the remains were in high demand from filmmakers and musicians around the globe, he was married to a beautiful American dancer, he lived among New York's social elite. And then, in 1938, he mysteriously vanished, not to be seen again for over 50 years.