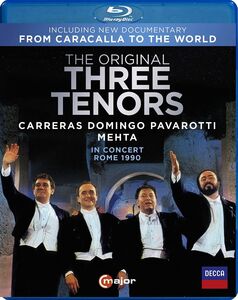 The Original Three Tenors in Concert, Rome 1990
Communiqué de

24/09/2021

Film et TV Genre

Opera/Operetta

Format de médias

Blu-ray

Veuillez prendre note. Sauf indication contraire, tous les BLU-RAY sont des zone A et tous les DVD région 1 encodez. Avant d'acheter, veuillez vous assurer que votre matériel peut lire ces régions. Pour plus d'informations sur le codage de la région, cliquez sur le lien ci-dessous :
Product Notes
This very special release includes the legendary concert of the Original Three Tenors - José Carreras, Plácido Domingo and Luciano Pavarotti, conducted by Zubin Mehta at the Terme di Caracalla, Rome 1990 on the eve of the Football World Cup in Italy, watched by 1.6 billion spectators worldwide. For the first time available on Blu-ray, digitally remastered! This edition includes the new documentary The Three Tenors - From Caracalla to the World featuring recent interviews with José Carreras, Plácido Domingo, Zubin Mehta, Pavarotti's widow Nicoletta Mantovani, Lalo Shifrin, Brian Large, Mario Dradi, Paul Potts, Sir Bryn Terfel, Norman Lebrecht, Didier de Cottignies and many more. Previously unpublished backstage material shows the tenors unadorned and offers a fascinating insight into what takes place beyond the spotlight in Rome, 1990 and the sequel in Los Angeles, 1994. The film takes a completely new look at the concert legends. For the first time, they talk about José Carreras' struggles with leukemia, their rivalries and friendships, their spectacular contract poker and life as an opera star.