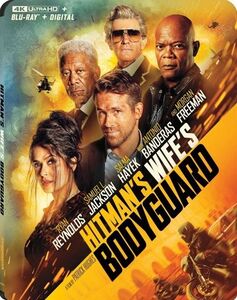 Preview
The Hitman's Wife's Bodyguard
(4K Mastering, With Blu-ray, 2 Pack)
Communiqué de

17/08/2021

Film et TV Genre

Action / Adventure, Comedy Video

Format de médias

4K Ultra HD

Veuillez prendre note. Sauf indication contraire, tous les BLU-RAY sont des zone A et tous les DVD région 1 encodez. Avant d'acheter, veuillez vous assurer que votre matériel peut lire ces régions. Pour plus d'informations sur le codage de la région, cliquez sur le lien ci-dessous :
Product Notes
On forced work sabbatical-and barred from using weaponry or lethal force-Michael Bryce (Ryan Reynolds) gets saved from a would-be killer by Sonia Kincaid (Salma Hayek), spouse of frenemy Darius (Samuel L. Jackson). It wasn't out of the goodness of her heart, as she needs Bryce's help springing her husband from the clutches of an international mobster (Antonio Banderas)... and all he's bringing to the fight are his wits. Fast-paced follow-up co-stars Morgan Freeman, Frank Grillo, Richard E. Grant, Tom Hopper. 116 min. Widescreen; Soundtrack: English. Two-disc set.