Afficher les résultats pour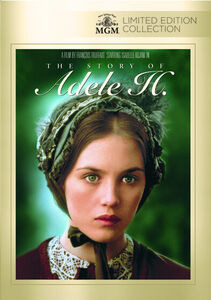 The Story of Adele H.
(Manufactured on Demand, Dolby, NTSC Format)
Communiqué de

23/12/2014

Film et TV Genre

Drama, Foreign-French

Format de médias

DVD

Video Format

NTSC

Veuillez prendre note. Sauf indication contraire, tous les BLU-RAY sont des zone A et tous les DVD région 1 encodez. Avant d'acheter, veuillez vous assurer que votre matériel peut lire ces régions. Pour plus d'informations sur le codage de la région, cliquez sur le lien ci-dessous :
Product Notes
Adele, daughter of French author and patriot Victor Hugo, is beautiful, composed and filled with the same brilliant writing talent as her famous father. However, Adele is driven not by literary aspirations but by love. Impelled by a need that will not be denied, she has run away from home to follow her handsome, womanizing lover (Bruce Robinson) across an ocean to wintry Halifax, Nova Scotia. Wild with desire, shell risk everything to renew their brief affair. And if she can't win him back, there'll be a terrible price to pay.
Description
| | |
| --- | --- |
| Titre: | The Story of Adele H. |
| Genre: | Drama, Foreign-French |
| Mettant en vedette: | Isabelle Adjani, Bruce Robinson |
| Directeur: | Francois Truffaut |
| Studio: | MGM Mod |
| Attributs: | Manufactured on Demand, Dolby, NTSC Format |
| Date de sortie: | 23/12/2014 |
| Format de médias: | DVD |
| Note: | PG |
| UPC: | 883904304609 |
| Langue d'origine: | ENG |
| Légende fermée: | No |
| Moment de l'exécution: | 98 minutes |
| Video Format: | NTSC |
| Year of Release: | 1975 |