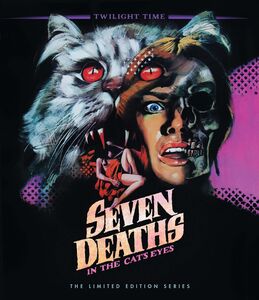 Seven Deaths in the Cat's Eyes (Corringa, La Morte Negli Occhi Del Gatto)
Communiqué de

28/12/2021

Film et TV Genre

Horror

Format de médias

Blu-ray

Veuillez prendre note. Sauf indication contraire, tous les BLU-RAY sont des zone A et tous les DVD région 1 encodez. Avant d'acheter, veuillez vous assurer que votre matériel peut lire ces régions. Pour plus d'informations sur le codage de la région, cliquez sur le lien ci-dessous :
Product Notes
When a fractious aristocratic family gathers at an ancestral Scottish castle, a straight razor-wielding murderer is also an unwelcome guest in Seven Deaths in the Cat's Eyes (1973, aka Corringa or La morte negli occhi del gatto), a blood-laced thriller - complete with giallo flourishes, tantalizing sexuality, a pet gorilla and an omnipresent ginger tabby - from genre filmmaker Antonio Margheriti (aka Anthony M. Dawson). Singer/actress Jane Birkin plays the willowy heroine whose arrival foreshadows several unnatural deaths, Hiram Keller is the possibly unhinged lord of the manor with a cursed history, and the ensemble includes schemers with homicidal tendencies, all underscored by the shudder-inducing music of the great Riz Ortolani.
Description
| | |
| --- | --- |
| Titre: | Seven Deaths in the Cat's Eyes (Corringa, La Morte Negli Occhi Del Gatto) |
| Genre: | Horror |
| Mettant en vedette: | Jane Birkin, Hiram Keller, Françoise Christophe, Venantino Venantini, Doris Kunstmann, Anton Diffring, Dana Ghia, Konrad Georg, Serge Gainsbourg, Luciano Pigozzi |
| Directeur: | Antonio Margheriti |
| Studio: | Twilight Time |
| Date de sortie: | 28/12/2021 |
| Format de médias: | Blu-ray |
| UPC: | 700261486178 |
| Moment de l'exécution: | 95 minutes |