Afficher les résultats pour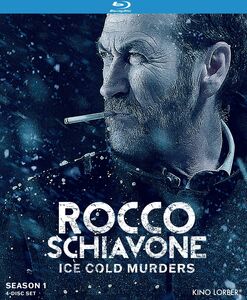 Rocco Schiavone: Ice Cold Murders (Season 1)
(4 Pack)
Communiqué de

26/04/2022

Film et TV Genre

TV Crime, Television

Format de médias

Blu-ray

Veuillez prendre note. Sauf indication contraire, tous les BLU-RAY sont des zone A et tous les DVD région 1 encodez. Avant d'acheter, veuillez vous assurer que votre matériel peut lire ces régions. Pour plus d'informations sur le codage de la région, cliquez sur le lien ci-dessous :
Product Notes
Insubordination found irritable, dope-smoking deputy commissioner Rocco Schiavone (Marco Giallini) bounced from his hometown Roman beat to the snowbound climes of the Alpine resort city Aosta. Loathing the cold and liking his new colleagues little better, the canny cop still found plenty of worthy challenges on the homicide blotter. Flavorful take on Antonio Manzini's fiction co-stars Ernesto D'Argenio, Claudia Vismara, Caterina Rispoli, Massimiliano Caprara, Christian Ginepro, Isabella Ragonese, Francesco Acquaroli.6 episodes on 4 discs 10 1/4 hrs. Widescreen; Soundtracks: Italian, English; Subtitles: English; theatrical trailers. In Italian with English subtitles.
Description
| | |
| --- | --- |
| Titre: | Rocco Schiavone: Ice Cold Murders (Season 1) |
| Genre: | TV Crime, Television |
| Directeur: | Michele Soavi |
| Studio: | Kino Lorber |
| Nombre de disques: | 4 |
| Attributs: | 4 Pack |
| Date de sortie: | 26/04/2022 |
| Format de médias: | Blu-ray |
| Note: | NR |
| UPC: | 738329258382 |
| Langue d'origine: | ITA |
| Moment de l'exécution: | 615 minutes |
| Year of Release: | 2016 |