Afficher les résultats pour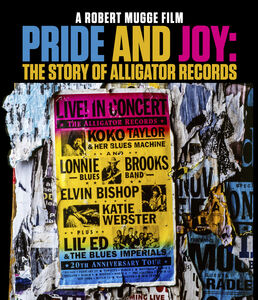 Pride and Joy: The Story of Alligator Records
Communiqué de

22/04/2016

Film et TV Genre

Blues, Music Video (Concert/Performance)

Format de médias

Blu-ray

Veuillez prendre note. Sauf indication contraire, tous les BLU-RAY sont des zone A et tous les DVD région 1 encodez. Avant d'acheter, veuillez vous assurer que votre matériel peut lire ces régions. Pour plus d'informations sur le codage de la région, cliquez sur le lien ci-dessous :
Product Notes
In 1971, Bruce Iglauer founded Alligator Records, an independent record company which, in the decades since, has proven to be the most successful modern blues label. In early 1992, Iglauer staged the Alligator Records 20th Anniversary Tour starring Koko Taylor and her Blues Machine, Elvin Bishop, Katie Webster, the Lonnie Brooks Blues Band (featuring Lonnie's son Ronnie Baker Brooks), and Lil' Ed and the Blues Imperials. Director Robert Mugge, having recently made the film DEEP BLUES (1991) about the blues traditions of Mississippi, decided to follow up with a tribute to Alligator and it's roster of top contemporary blues artists from Chicago and elsewhere. The resulting film, PRIDE AND JOY: THE STORY OF ALLIGATOR RECORDS, presents musical highlights from one of the 4-plus-hour concerts (March 12th at Philadelphia's Chestnut Cabaret) that made up the tour, glimpses of Alligator's Chicago offices, and profiles of key performers and staff members. The "pride and joy" on display are not only that of fine musical artists plying their trades, but also that of a passionate and highly principled entrepreneur succeeding in a business mostly controlled by corporate giants and littered with the wreckage of countless small, independent labels. Songs in the film include "Pride and Joy" and "Ed's Boogie" (Lil' Ed), "Pussycat Moan" and "Lord, I Wonder" (Katie Webster), "El-Bo" and "Beer Drinking Woman" (Elvin Bishop), "I'd Rather Go Blind" (Koko Taylor), "Wife For Tonight" and "I Want All My Money Back" (Lonnie Brooks), "It's A Dirty Job" (Koko Taylor with Lonnie Brooks), and "Sweet Home Chicago" (final joint encore). A companion soundtrack-and-tour CD set is available from Alligator Records. Transferred to HD from the original 16mm film and lovingly restored.