Afficher les résultats pour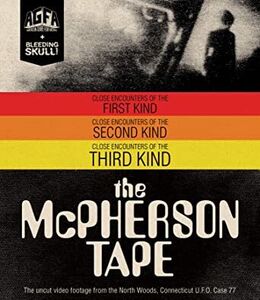 The Mcpherson Tape (aka U.f.o. Abduction)
Communiqué de

28/04/2020

Film et TV Genre

Horror, Science Fiction

Format de médias

Blu-ray

Veuillez prendre note. Sauf indication contraire, tous les BLU-RAY sont des zone A et tous les DVD région 1 encodez. Avant d'acheter, veuillez vous assurer que votre matériel peut lire ces régions. Pour plus d'informations sur le codage de la région, cliquez sur le lien ci-dessous :
Product Notes
A decade before THE BLAIR WITCH PROJECT redefined the horror landscape, there was THE MCPHERSON TAPE. On October 8th, 1983, the McPherson family gathered together to celebrate the 5th birthday of Michelle, the littlest member of their household. Everything was captured on VHS by Michael McPherson and his new camcorder. Including the alien invasion. Shot for $6000 by first-time filmmaker Dean Alioto in 1989, this movie blends the production design of a Jaycees haunted house with a dead serious tone to forge a fun, hypnotic nightmare that upends the concept of reality. Due to a warehouse fire at the original distribution company, THE MCPHERSON TAPE was never legitimately released. AGFA + Bleeding Skull! Are proud to present the world home video premiere of this important milestone in shot-on-video horror history, newly preserved from the original 3/4" master tape.
Description
| | |
| --- | --- |
| Titre: | The Mcpherson Tape (aka U.f.o. Abduction) |
| Genre: | Horror, Science Fiction |
| Directeur: | Dean Alioto |
| Studio: | American Genre Film |
| Date de sortie: | 28/04/2020 |
| Format de médias: | Blu-ray |
| Note: | NR |
| UPC: | 814456022581 |
| Langue d'origine: | ENG |
| Sous-titres: | ENG |
| Moment de l'exécution: | 63 minutes |
| Year of Release: | 1989 |