Afficher les résultats pour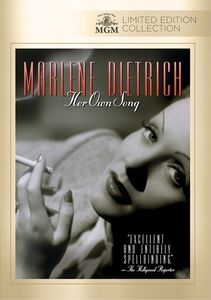 Marlene Dietrich: Her Own Song
(Manufactured on Demand, Widescreen, NTSC Format)
Communiqué de

14/10/2014

Film et TV Genre

Special Interest-Documentary, Biography

Format de médias

DVD

Video Format

NTSC

Veuillez prendre note. Sauf indication contraire, tous les BLU-RAY sont des zone A et tous les DVD région 1 encodez. Avant d'acheter, veuillez vous assurer que votre matériel peut lire ces régions. Pour plus d'informations sur le codage de la région, cliquez sur le lien ci-dessous :
Product Notes
Film goddess. Cabaret chanteuse. Tireless soldier. Immortal icon. Marlene Dietrich endures as one of the most seductive and glamorous personalities in cinematic history. But who was she really. In this fascinating, revealing glimpse behind the image (Los Angeles Times) narrated by Jamie Lee Curtis, director J. David Riva pays tribute to his world-renowned grandmother. On screen, she was a legend. But that was only the beginning. She became the German-born all-American girl, entertaining U.S. troops on the front lines, doing whatever she could for her boys on the battlefield. Rare, never-before-seen footage and candid interviews are featured in this stirring portrait that will have you falling in love again with Marlene.