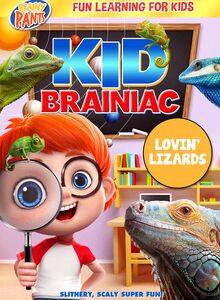 Kid Brainiac: Lovin' Lizards
Communiqué de

26/03/2021

Film et TV Genre

Animation

Format de médias

DVD

DVD Region

1

Veuillez prendre note. Sauf indication contraire, tous les BLU-RAY sont des zone A et tous les DVD région 1 encodez. Avant d'acheter, veuillez vous assurer que votre matériel peut lire ces régions. Pour plus d'informations sur le codage de la région, cliquez sur le lien ci-dessous :
Product Notes
When young genius Felix Brainiac teams up with his time-traveling dinosaur pal Big T, the duo sets out on an amazing adventure, going where no kid and dino have gone before! They enlist the help of Grandpa Brainiac, the great genius who has taught Felix everything he knows. As Grandpa Brainiac scours space and time in his ultra modern spaceship, he teaches Felix and Big T all the facts and all the knowledge! This time, join Felix and Big T as they meet the most fascinating lizards under the sun in Kid Brainiac: Lovin' Lizards!