Afficher les résultats pour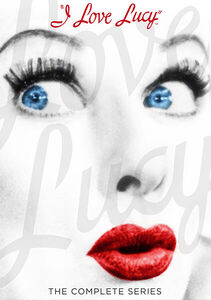 I Love Lucy: The Complete Series
(Boxed Set, Full Frame, Repackaged, Dubbed)
Communiqué de

21/07/2020

Film et TV Genre

TV Comedy, Television

Theme

EMMY WINNER

Format de médias

DVD

Veuillez prendre note. Sauf indication contraire, tous les BLU-RAY sont des zone A et tous les DVD région 1 encodez. Avant d'acheter, veuillez vous assurer que votre matériel peut lire ces régions. Pour plus d'informations sur le codage de la région, cliquez sur le lien ci-dessous :
Product Notes
In 1951, film actress Lucille Ball and her musician husband Desi Arnaz spent $5,000 to produce a TV sitcom pilot about a Cuban-born bandleader named Ricky Ricardo, his zany, starstruck wife Lucy, and their madcap life in a Manhattan apartment. The result was the decade's biggest show and a landmark in TV history that ran until 1957. William Frawley and Vivian Vance co-star as the Ricardos' best friends and neighbors, Fred and Ethel Mertz. Includes seasons one through six of "I Love Lucy" and the three-season run of "The Lucy-Desi Comedy Hour. " 193 episodes on 33 discs. 90 hrs. Standard; Soundtracks: English Dolby Digital mono, Spanish Dolby Digital mono; Subtitles: Spanish; bonus footage.
Description
| | |
| --- | --- |
| Titre: | I Love Lucy: The Complete Series |
| Genre: | TV Comedy, Television |
| Mettant en vedette: | Lucille Ball, Desi Arnaz, William Frawley |
| Directeur: | Marc Daniels |
| Studio: | Paramount |
| Nombre de disques: | 33 |
| Attributs: | Boxed Set, Full Frame, Repackaged, Dubbed |
| Date de sortie: | 21/07/2020 |
| Format de médias: | DVD |
| Note: | NR |
| UPC: | 032429345639 |
| Baptisé: | SPA |
| Langue d'origine: | ENG |
| Sous-titres: | SPA |
| Moment de l'exécution: | 5398 minutes |