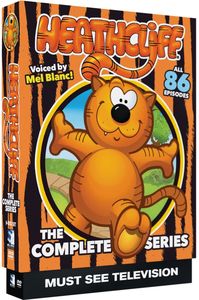 Heathcliff: The Complete Series
Communiqué de

01/01/2019

Film et TV Genre

TV Animation, Family-Animated

Format de médias

DVD

Veuillez prendre note. Sauf indication contraire, tous les BLU-RAY sont des zone A et tous les DVD région 1 encodez. Avant d'acheter, veuillez vous assurer que votre matériel peut lire ces régions. Pour plus d'informations sur le codage de la région, cliquez sur le lien ci-dessous :
Product Notes
Heathcliff knows he is the best cat around! Never have we seen such self-confidence topped off with a heavy dose of vanity, cunning, ruthlessness and a mischievous love of gags. He cruises and struts down the street and watch out any person, cat or dog who gets in his way! Although he may terrorize the neighborhood, let an outsider try to push anyone around and he is a veritable tiger of defense.