Afficher les résultats pour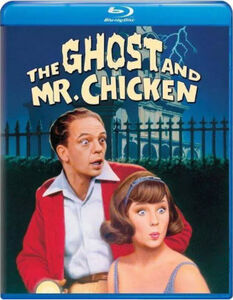 Preview
The Ghost and Mr. Chicken
(Snap Case)
Communiqué de

14/02/2017

Film et TV Genre

Comedy Video, Mystery / Suspense

Format de médias

Blu-ray

Veuillez prendre note. Sauf indication contraire, tous les BLU-RAY sont des zone A et tous les DVD région 1 encodez. Avant d'acheter, veuillez vous assurer que votre matériel peut lire ces régions. Pour plus d'informations sur le codage de la région, cliquez sur le lien ci-dessous :
Product Notes
Don Knotts stars in The Ghost and Mr. Chicken as a timid typesetter who hasn't a ghost of a chance of becoming a reporter - until he decides to solve a murder mystery and ends up spending a fright-filled night in a haunted house! Figuring the answers to the mystery lie in the old Simmons mansion, Luther Heggs (Knotts) visits the estate at the witching hour of midnight. Certain he's seen a ghost, Luther writes a story which makes front page news - and brings on a libel suit from the mansion's owner. When the trial judge orders an investigation - and no apparition appears - Luther is branded a fraud. That is, until he and his devoted girlfriend team up to uncover the mystery of the haunting - and the true murderer - in this timeless comedy classic.