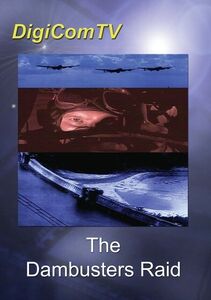 The Dambusters Raid
(Manufactured on Demand, Dolby, Mono Sound)
Communiqué de

03/07/2018

Film et TV Genre

Special Interest-War, War-World War II

Format de médias

DVD

Veuillez prendre note. Sauf indication contraire, tous les BLU-RAY sont des zone A et tous les DVD région 1 encodez. Avant d'acheter, veuillez vous assurer que votre matériel peut lire ces régions. Pour plus d'informations sur le codage de la région, cliquez sur le lien ci-dessous :
Product Notes
On May 17th. 1943 the Royal Air Force carried out one of the most remarkable raids ever undertaken by any aircrew. On that night a squadron of Lancaster heavy bombers flew at low level across a blacked out Europe, towards the four great dams that delivered water and power to the German industrial heartland of the Ruhr. The aircrews had been trained for months to carry out this most daring and courageous of raids. Against a storm of anti-aircraft fire, they calmly flew their bombers in across the reservoirs, holding a specific height and speed, to deliver their strange cylindrical bouncing bombs, to explode against the face of the dams, and blow great holes in them. The factories of the Ruhr were crippled. 1300 German civilians died, and 53 aircrew were lost. For the very first time this programme explores both sides of a raid that has become an epic in the history of World War 2.
Description
| | |
| --- | --- |
| Titre: | The Dambusters Raid |
| Genre: | Special Interest-War, War-World War II |
| Studio: | Digicomtv |
| Attributs: | Manufactured on Demand, Dolby, Mono Sound |
| Date de sortie: | 03/07/2018 |
| Format de médias: | DVD |
| Note: | NR |
| UPC: | 883629725604 |
| Langue d'origine: | ENG |
| Moment de l'exécution: | 52 minutes |
| Year of Release: | 2001 |