Afficher les résultats pour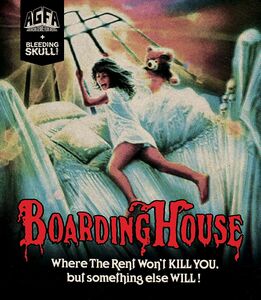 Communiqué de

26/10/2021

Film et TV Genre

Horror

Format de médias

Blu-ray

Veuillez prendre note. Sauf indication contraire, tous les BLU-RAY sont des zone A et tous les DVD région 1 encodez. Avant d'acheter, veuillez vous assurer que votre matériel peut lire ces régions. Pour plus d'informations sur le codage de la région, cliquez sur le lien ci-dessous :
Product Notes
Having inherited a stately old home, psychic Jim Royce (writer/director John Wintergate) shrugged off the murders committed there a decade earlier and took on a flock of gorgeous young women as boarders. When a sinister presence starts picking them off in stunningly violent ways, it'll be too late to get the security deposit back! VHS-era shock staple also stars Kalassu Kay, Lindsay Freeman, Joel Riordan. Theatrical version; 98 min./Director's cut; 158 min. Widescreen; Soundtrack: English; Subtitles: English; audio commentary; alternate "Psycho Killer" cut; bonus film "Sally & Jess" (1989); TV spots; theatrical trailer; more. Two-disc set.
Description
| | |
| --- | --- |
| Titre: | Boardinghouse |
| Genre: | Horror |
| Studio: | American Genre Film |
| Nombre de disques: | 2 |
| Attributs: | 2 Pack |
| Date de sortie: | 26/10/2021 |
| Format de médias: | Blu-ray |
| Note: | R |
| UPC: | 814456023762 |
| Langue d'origine: | ENG |
| Sous-titres: | ENG |
| Moment de l'exécution: | 88 minutes |
| Year of Release: | 1982 |