Afficher les résultats pour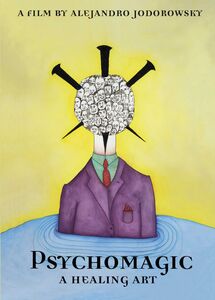 Psychomagic, A Healing Art
Communiqué de

11/12/2020

Film et TV Genre

Special Interest-Documentary

Format de médias

Blu-ray

Veuillez prendre note. Sauf indication contraire, tous les BLU-RAY sont des zone A et tous les DVD région 1 encodez. Avant d'acheter, veuillez vous assurer que votre matériel peut lire ces régions. Pour plus d'informations sur le codage de la région, cliquez sur le lien ci-dessous :
Product Notes
Psychomagic, A Healing Art- a new documentary following Alejandro Jodorowsky's therapeutic work of Psychomagic, the film draws from a life-long study of philosophy, psychology, ethnology, and world religions - from Freud to shaman, from Kabbalah to Gurdjieff, and everything in between. Bizarre and provocative challenges lead to personal catharsis in this amazing film. Intercut with scenes from his most famous films, it parallels and explains his intent and vision from the start of his career, giving new perspective and meaning to his works, while simultaneously breaking the wall between fictional and real.