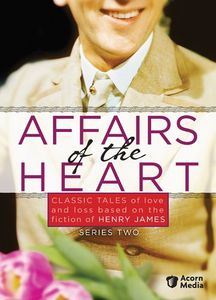 Affairs of the Heart: Series 2
Communiqué de

15/09/2009

Film et TV Genre

British-Drama, Box Sets

Format de médias

DVD

Veuillez prendre note. Sauf indication contraire, tous les BLU-RAY sont des zone A et tous les DVD région 1 encodez. Avant d'acheter, veuillez vous assurer que votre matériel peut lire ces régions. Pour plus d'informations sur le codage de la région, cliquez sur le lien ci-dessous :
Product Notes
Classic series features six adaptations of Henry James works, including An International Episode and Daisy Miller. These superbly adapted and elegantly executed hour-long dramas feature stellar casts and all the subtly and nuance of their literary sources. The casts include Derek Jacobi (I, Claudius), Eileen Atkins (Cold Mountain), SinTad Cusack (North and South), Edward Hardwicke (The Return of Sherlock Holmes), Cheryl Campbell (Chariots of Fire), Daniel Massey (Star!), and Christopher Cazenove (The Duchess of Duke Street). Series Two premiered in the U.K. in 1975.
Description
| | |
| --- | --- |
| Titre: | Affairs of the Heart: Series 2 |
| Genre: | British-Drama, Box Sets |
| Mettant en vedette: | Bernard Lee, Eileen Atkins, Michael Bryant, Rosalind Ayres, Georgina Cookson, Tony Jay, Gary Bond, Barbara Murray, Derek Francis, Georgina Hale |
| Studio: | Acorn Media |
| Nombre de disques: | 2 |
| Date de sortie: | 15/09/2009 |
| Format de médias: | DVD |
| Note: | NR |
| UPC: | 054961821297 |
| Légende fermée: | No |
| Year of Release: | 1975 |